The Inayati Order of Greater Boston is devoted to meditation instruction, spiritual growth, and the teachings of Hazrat Inayat Khan, Pir Vilayat Inayat Khan, and Pir Zia Inayat-Khan. It sponsors classes and events occurring around southeastern New England at a number of locations. It is a collaborative of centers of the Inayati Order, an interfaith organization dedicated to spiritual growth and development.
Classes and Events for Spring 2017
---
Classes and Announcements
Featured Events
Ziraat Lodge
June 18th, 2017 6 pm
@Cynthia Burke's house
70 Chestnut Hill Road
South Kingstown, RI
Ziraat is a mystery school in the Sufi tradition founded by Hazrat Inayat Khan.
We work with a sacred ceremony whose farming symbols invoke a deeper awareness of one's own spiritual estate. Using metaphors of plowing, sowing, and reaping, one strives to remove inner doubts, fears, and impressions, thus clearing the field for planting the bounty of an essential presence to the Soul and a conscious connection to the Divine.
We will meditate on the Elements and reflect on the expanding Light as the Solstice draws near, thus renewing our inner selves.
RSVP: Jurate Satya Calise, facilitator
JurateC#yahooc?Subject=Aziza retreat or 401.714.5002
Universal Worship
A Celebration of One Human Family
On the theme​: The Power of Love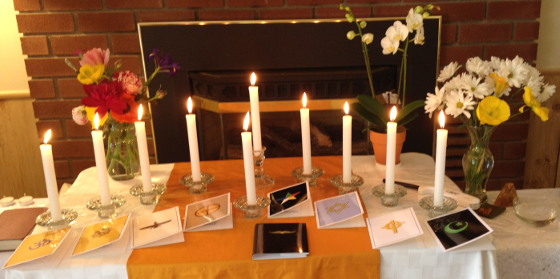 Lindsey Chapel at Emmanuel Church
15 Newbury St., Boston, MA (in the Back Bay)
Saturday, June 24th, 2017, 3:00PM
We will join together in Universal Worship, Hazrat Inayat Khan's inspired service bringing together all the world's religions at one altar, as one human family.
The service will honor two auspicious occasions, the 13th Urs of Pir Vilayat Inayat Khan on June 17th, and the Birthday of Murshid Hazrat Inayat Khan on July 5th. The theme, The Power of Love seems a fitting celebration of the lives of both of these beloved teachers. I am remembering that it was Murshid's dying wish that Pir Vilayat would build the Universel, the temple of all religions to house the Universal Worship, and the dedication and love with which Pir Vilayat accomplished that task, and spread his father's message of unity by offering the Universal Worship at camps throughout the world, furthering interfaith dialogue among religious leaders, and authoring the Cosmic Celebration. In that spirit, we will celebrate together. Bring your memories to share!
The service ​will be ​about an hour long, followed by refreshments​​.​ ​It ​will be conducted by Hermione Garland, a Cherag​, or minister of the Inayati Order of Greater Boston​, and sometimes joined by friends.​
Donations are gratefully accepted to cover costs. We have arranged discounted parking nearby for $8.00 for 11 hours. Details and directions can be downloaded from this link.
We will make a reservation at Thai Basil Restaurant, at 132 Newbury Street for all who would like to join together for dinner afterwards. The restaurant is nearby, the food is delicious and reasonably priced! Please RSVP ​if you plan to join us so we know how many to expect for the service and include in the reservation.
---
"Thus the ultimate purpose for which the soul is seeking every moment of our life, is our spiritual purpose. And you may ask how to attain to that purpose. The answer is that what you are seeking for is within yourself. Instead of looking outside, you must look within. The way to proceed to accomplish this is for some moments to suspend all your senses such as sight, hearing, smell, touch, in order to put a screen before the outside life; and by concentration and by developing that meditative quality you will sooner or later get in touch with the inner self which is more communicative, which speaks more loudly than all the noises of this world; and this gives joy, creates peace, and produces in you a self-sufficient spirit, a spirit of independence, of true liberty."
-- Hazrat Inayat Khan
---